This page provides short biographies of QED benefactors or builders from the past. Prominent student awards, chairs, or even buildings are named for these distinguished persons. We hope that those benefiting from their contributions will enjoy reading more about them.
John Deutsch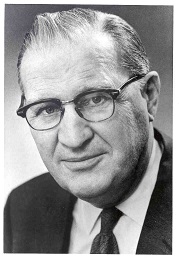 John Deutsch was born in Quinton, Saskatchewan in 1911. The eldest of 17 children in a Prairie farm family, Deutsch worked his way through college. He won a scholarship to Queen's and graduated in 1934 with a degree in commerce and economics. He continued postgraduate work in economics until, in 1936 at age 25, he became a research assistant at the newly formed Bank of Canada. A year later he was lent to the Rowell-Sirois Royal Commission on Dominion-Provincial Relations and soon became the Commission's research director.
He later served as secretary of the newly formed Canada-United States economic committee and wartime assistant to Deputy Minister of External Affairs. In 1953 he became Director of the International Economic Relations division of the Finance Department, a role that gave him the rank of Assistant Deputy Minister. Later the same year he became Secretary of the Treasury Board in Ottawa.
In 1959 he returned to Queen's as Vice-Principal, Administration. Four years later he returned to Ottawa as Chair of the newly created Economic Council of Canada. He stayed with the Council until the fall of 1967 when he became principal-elect of Queen's. In 1969 he was made a Companion of the Order of Canada. Professor Deutsch retired as principal in 1974 but continued on as a professor of Economics, a post he held until his death in 1976.
He is commemorated in the John Deutsch Institute for the Study of Economic Policy (the JDI) and in the John Deutsch University Centre.
For more information about Principal Deutsch please see the JDI biographical note or the Queen's University Encyclopedia.
Edward Peacock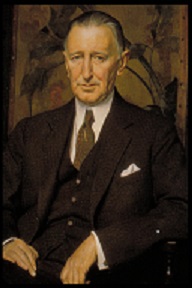 Edward Robert Peacock was born in 1871 in St. Elmo Ontario, the oldest of five children. His father, a minister, died when Peacock was twelve, and his mother moved to Almonte, where he received his secondary schooling. He studied at Queen's University, where his instructor was Adam Shortt. He graduated in 1894 as gold medalist in philosophy and silver medalist in political economy.
After working for a short period as a motorman on the Montreal street railway, Peacock took a year of training and started his career as a teacher at Upper Canada College. In 1902 Peacock left the teaching profession to join Dominion Securities. While in Toronto he later became a vice-president of Brazilian Light and Traction and president of the Mexican Light and Power Company.
In 1907 Peacock moved to England to set up Dominion's UK office. He later became a director of the Bank of England, a partner in Barings, a director of the Hudson's Bay Company and of the CPR, and a trustee of the Rhodes Trust. In 1929 he became Receiver General to the Duchy of Cornwall which involved handling the royal finances, a post he held until 1952. He was knighted by King George V in 1934. During World War II Peacock served in Washington as liaison between the Bank of England and the U.S. government. Just before the war he was instrumental in recruiting Ian Fleming into Naval Intelligence.
Queen's University honoured Sir Edward Peacock with an LLD in 1949. He died in 1962 leaving a legacy to Queen's in support of the Sir Edward Peacock Professorships.
For more information please see this biographical note or the wikipedia entry
Edith M. Whyte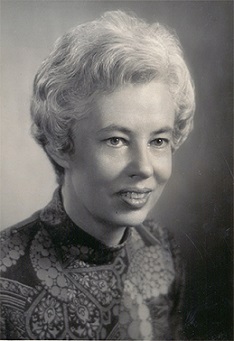 Edith M. Whyte was a pioneering economist at the Bank of Canada. A native of Ottawa, she graduated from Queen's University (B.A. 1948) and then joined the Bank. She successively served as Assistant Chief of the Research Department (1966-1971), Deputy Chief of the International Department (1972-1974), Chief of the International Department (1974-1977), then Chief of the Computer Services Department after 1977. She then was an Associate Advisor, part of the policy-making body at the Bank, and its highest ranking woman. She died of cancer in 1980.
Ms. Whyte served the Victorian Order of Nurses as president of the board of the Ottawa branch and as a member of the national executive. She also served on the Queen's University Council.
Her colleagues remembered her as a person of great integrity who embraced challenges enthusiastically, carried authority comfortably, and had an unforgettable laugh. She was much admired and respected by all who worked with her. Here is an excerpt from "Edith Whyte Remembered" by George Pike, Queen's Alumni Review, July-August 1981, p 26:

Although Edith was only 53 when she died, she left a record of accomplishment worthy of several lifetimes. We intend that the income from the fund in her name be used to encourage Economics students to pursue the ideals she embodied.

Ms. Whyte is commemorated in the Edith Whyte Memorial Book Prizes in Intermediate Macroeconomic Theory (awarded to students displaying outstanding performance in ECON 222) and in the Edith Whyte Memorial Scholarships in Economics (awarded on the basis of work in the second and third years in Economics to the top students who are admitted to the fourth year of a B.A.(Hons.) program with a major concentration in Economics or Applied Economics). These awards were founded by family, friends, and colleagues in Ms. Whyte's memory. She also is commemorated in research computers in the QED and at the Bank of Canada, both named edith.
Photo: Edith Whyte. ca 1966. Bank of Canada Archives (PC223-17) Credit: Unknown.
Don Wood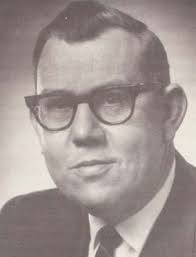 Professor W. Donald Wood (M.A. 1953) taught at Queen's from 1960 to 1985 and was the first Director of the School of Industrial Relations.
After serving in the Royal Canadian Air Force during World War II, Dr. Wood studied economics at McMaster and Queen's Universities and then at Princeton University where he completed a Ph.D. thesis on white-collar unionism. He subsequently gained practical experience as Director of Employee Relations Research at Imperial Oil for five years.
Dr. Wood came to Queen's University as a professor of economics and served as Director of the Queen's Industrial Relations Centre from 1960 to 1985. He pioneered a continuing education program for human resources managers on employee-employer relationships. He helped shape public policy through his research and publications program and his participation on many federal and provincial task forces.
As Founding Director of the School of Industrial Relations at Queen's University from 1983 to 1985, he created and guided the early development of the new multi-disciplinary Master of Industrial Relations program which continues as one of Canada's most respected programs in this field. Dr. Wood was well-known and much appreciated for his work in bringing together academics and practitioners and closing the gap between the academic world and the professional practice of industrial relations (IR). Following his retirement in 1985, Dr. Wood ran the IRC's Continuing Education Program for five years and led training seminars well into the 1990s. His talent for bringing together leading authorities from industry, unions, government, universities, and consulting firms enriched the education of IR students across Canada and internationally. It continues to inspire those involved in IR education and research today. Don was a fine scholar and an exceptional colleague. He died in June 2003 in his 84th year.
Dr. Wood is commemorated in the annual Don Wood Lecture Series and in the Don Wood Undergraduate Scholarships in Economics. Established in April 2006 by Chancellor Emeritus David Dodge, B.A.(Hons.) 1965, LL.D. 2002 and Christiane Dodge, B.A.(Hons.) 1965, these are awarded on the basis of academic excellence to one or more full-time students entering the second, third, or fourth year of a B.A.(Hons.) program with a Major in Economics, a Major in Applied Economics, or a Medial in Economics.