Faculty from all departments and disciplines have been taking advantage of the rich resources at Agnes for vivid experiential learning.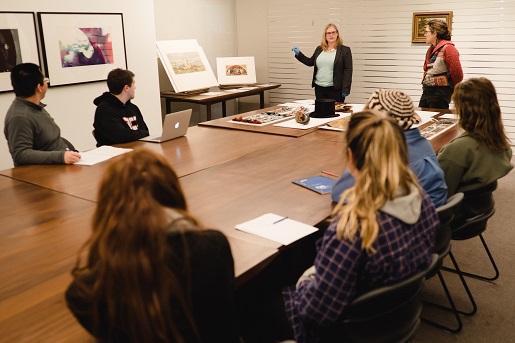 Professor Anya Hageman recently brought her Economics of Indigenous Communities (ECON 244) class to the gallery for two sessions. Students explored the Indigenous art exhibition Soundings: An Exhibition in Five Parts and encountered works from our collection including dentalium shell earrings, a beaver hat, a bison-horn cup and beautiful beaded bandolier bags. "Seeing objects expertly crafted from local and traded materials really brought pre-contact and early-contact indigenous economies to life for us," said Professor Hageman. "The paintings we examined illustrated how Europeans' view of Indigenous peoples was often romanticized, contributing to their marginalization."
Agnes has expanded learning-through-art initiatives this year with the help of Heather Parker, Associate Curator, Academic Outreach, who is on a term appointment made possible by the Chancellor Richardson Memorial Fund. She has made creative connections between the exhibitions, programs and collections at Agnes and diverse course offerings. This targeted approach has attracted classes from Law, Nursing, Geography and Planning, Global Development, and Languages, Literatures and Cultures, along with Art History, Classics, Drama, Education, English, Film Studies, Gender Studies and others. While introducing young adults to art as a resource for lifelong learning, these encounters support students in developing the visual analysis and observational skills that will enrich and inform them in their disciplines and as global citizens.