January 2023 edition
Volume 4
January 30, 2023
Items

February 6 | Summer 2023 Term registration begins
February 20 | Family Day (no classes)
February 21-24 | Mid-term Reading Week
View the full newsletter for additional news, events and available opportunities:

Just added! - January 31, 2023
Interested in a career at Morningstar? We are excited to share that we will be hosting an information session in partnership with Queen's University to talk all things Morningstar! Sign up to learn more about Morningstar and the career opportunities we have available for both co-ops and newly graduated students!
When: Monday February 6th at 5:30pm EST, Career Services workshop room.
Register to see more details.
Speaker: Vijayita Bhardwaj, Early Career Programs Lead
We also encourage you to look at our careers site to learn more about these exciting roles and apply to begin your career in empowering investor success!
You can visit our careers site here: https://www.morningstar.com/careers/mdp
Students must register through myCareer. Target Audience: Computer Engineering, School of Computing students, Economics, Business, Law 3rd & 4th year students.


Just added! - February 1
A one-year paid internship placement is available with the Ontario Ministry of Finance!
This unique learning and development opportunity provides recent post-secondary graduates a chance to gain direct work experience in policy, human resources, finance, service delivery and much more, in an inclusive, diverse, dynamic public sector environment.
In addition to being part of an organization that supports government policy and decision-making, successful internship candidates will benefit from mentorship with experienced leaders, flexible work arrangements with opportunities to work both from the office and remotely, and access to additional learning and development strategies for staff at all levels.
Key information about the program:
Eligibility requirements for the 2022/23 year:
Candidates must have graduated from a post-secondary institution or will complete the requirements to graduate between May 2021 and August 2023

Extended eligibility of five years after graduation for those who self-identify as Black, Indigenous or a person with a disability

Candidates must be legally entitled to work in Canada and living in Ontario during the term of employment
Timeline:
Application deadline: February 21, 2023

Internships begin immediately, June and September 2023 for a one-year duration
How to apply:
Prospective candidates can apply today through this link to the

OPS e-careers website

, which is also accessible using the QR code on the attached posters.
Questions?
Attend virtual information sessions taking place soon:

You can also direct any questions regarding the program to

efua.emil2@ontario.ca


Questions about your degree requirements?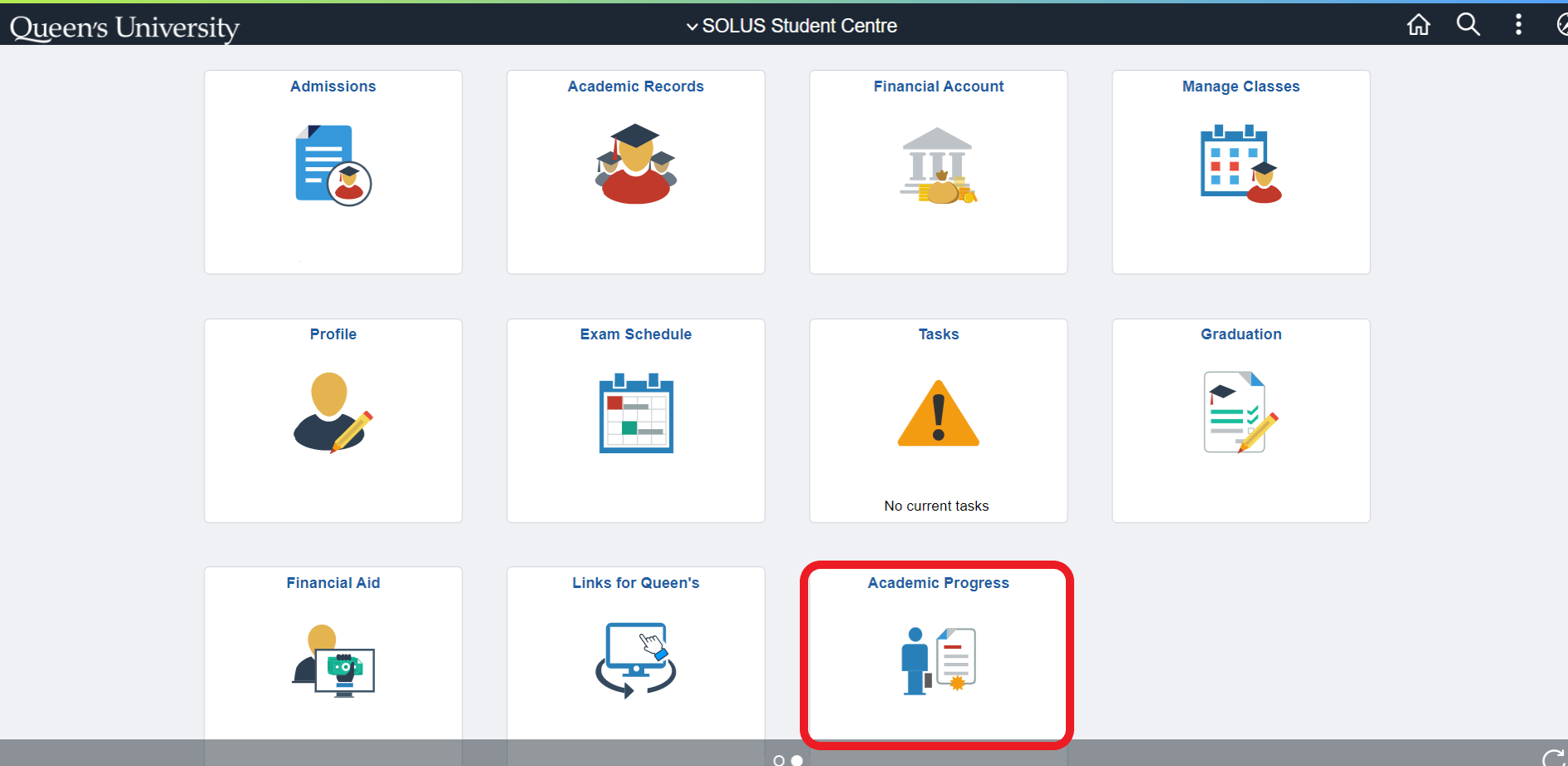 Understand and interpret your Academic Progress, available through SOLUS. The Academic Progress report is designed to give you advice on what courses you will need to take to complete your degree, as well as warn you if you have broken any of the various rules that govern which courses may be used in a particular degree program. For more information, click here.
Still unsure? Contact: econugrd@queensu.ca and please include your student number in all correspondence.

Help Support a Harassment and Discrimination-Free Campus
Learn about the university's Harassment and Discrimination Policy's complaint and reporting procedures, including how to complete an anonymous submission, how to help a friend, and student-focused education and training opportunities.
Sexual Violence Prevention & Response
The Sexual Violence Prevention and Response Service (SVPRS) is the central point of contact for students impacted by sexual violence and for prevention initiatives. Announcing the launch of VESTA for Campus – it gives survivors additional options for recording and reporting their experiences of sexual violence.
Building Community Together
Part of being a responsible citizen of Kington is gathering safely, respectfully, and without breaking the law. Gather safely by avoiding fines, court, and/or non-academic sanctions under the Queen's Code of Conduct.
Need support, but not sure who to contact?
Email studentaffairs@queensu.ca to get started. Units across Student Affairs offer programming, advising, events, and more.